It's that time of year again. A time to look back at the most significant Apple-related news stories of the year. As I did last year, I've selected my choice of the top 5 stories, "reflecting both the ups and downs of Apple's year, with a bias towards the up." I've also included two honorable mentions for noteworthy stories that didn't quite qualify for a 2012 award. Let the countdown begin…
5. Mountain Lion: The iOS-ification of OS X continues
On July 25, Apple released Mountain Lion, the newest version of OS X for Macs. As Apple releases a new version of OS X every year, this isn't big news by itself. What made Mountain Lion special was its emphasis on "iOS-ification." This is a trend that began with Lion in 2011, but really took off with this year's OS X update.
A look at Apple's What's New webpage for Mountain Lion reveals that almost every listed item is either an iOS feature imported to the Mac (Reminders, Notes, Messages, Notification Center, Game Center. Tweet from apps) or is designed to for improved interplay between iOS devices and Macs (iCloud, AirPlay). Given that iOS devices now represent the lion's share of Apple's revenue, this shift makes sense.
Overall, these new features are an improvement compared to how similar tasks were handled in Lion. Still, there is concern about the end game. Will OS X continue to evolve to a more iOS-like environment? Will this ultimately mean a simpler, more user-friendly Mac — one that has the bonus of effortlessly working with iPhones and iPads? Or will OS X emerge as a dumbed-down, sandboxed OS that leaves users frustrated with a host of iOS-derived restrictions and prohibitions? The answer should become clearer with the expected release of OS X 10.9 in 2013.
4. iPhone 5: Hello gorgeous!
The iPhone 5 is a knockout. Plain and simple. It improved on the previous generation of the iPhone in every aspect that matters: a larger 4″ screen, LTE support, a faster A6 processor, and an even better camera.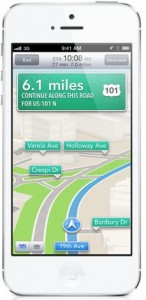 Plus, with its sleek thin design and metal back, it is the best looking iPhone ever. To top it off, it weighs no more than a feather (okay, two feathers).
While there has been grumbling about having to shift from the 30-pin Dock connector to the new Lightning connector, this was a necessary change. Once the period of transition is over, even Lightning will be viewed as an asset.
Competition from Android smartphones has been intense over the past year. Apple needed the new iPhone to be a big deal. It was. And it still is.
3. MacBook Pro with Retina Display: Seeing is believing
When Apple unveiled the 15-inch MacBook Pro with Retina Display last June, the consensus (as typified by John Gruber) was that it was the "best computer Apple has ever made." Later in the year, Apple added an equally impressive 13-inch Retina display sibling.
Why are these laptops such a big deal? The answer can be summed up in two words, words that are part of the name of the devices: Retina display. Once you spend time with these displays, you will be hard-pressed to go back to anything else. To describe the display as gorgeous is an understatement. Text seems as if it were inked on by some calligraphic process; there is no hint of pixelation. Photos pop out with a startling brilliance.
That's not all. Although not quite as thin as the MacBook Air, the Retina display notebooks are still thinner and lighter than any previous MacBook Pro. Like the Air, they feature super-fast and reliable SSD storage. And consistent with where Apple sees the future heading, these Pros no longer have an optical drive.
These MacBooks are the blueprint for Apple's future laptops over the next couple of years. No other computer company has anything that can compete with them. And that's why they are on the Top 5 list.
2. iPad mini: Smaller makes it bigger
Steve Jobs famously dismissed the idea of a 7-inch iPad as "too big to compete with a smartphone and too small to compete with an iPad." The public disagreed. Conceding to the public's appetite, Apple announced the iPad mini back in October. It was the right move. Since then, Apple has been unable to keep up with demand. It's been a run-away hit, likely at the forefront of what will be a blockbuster holiday season for Apple.
The mini doesn't break ground with new features. In fact, in some ways it is a step backward — especially as it lacks the Retina display of the larger iPad. But what it lacks in new features it makes up for with its primary reason for existence: a smaller size. With the growing popularity of super-large smartphones and 7-inch tablets, it was clear Apple needed a competitive entry in this market. The iPad mini is Apple's answer.
Most reviewers admired the more compact size of the mini, with its ability to easily hold the device in one hand. In general, the smaller display size was not viewed as problematic for working with iPad-optimized apps. Many mini users expect to switch from the larger iPad to the mini as their main tablet. Indeed, pundits predict that the iPad mini will eclipse the larger iPad in market share by the end of 2013.
1. Maps: Apple's sense of direction falters
At the start of 2012, I would never have guessed that an iOS app category would emerge as the top story of the year. But it did. Maps is not just any ol' app category. It may be the single most critical app on an iOS device. Not only is it one of the most frequently used apps — but with its ability to locate nearby places of business and other points-of-interest, it is an important indirect source of revenue for many companies. Whoever controls the default maps app controls a key portion of iOS.
That's essentially why Apple was increasingly uncomfortable with the fact that Google was the developer behind the Maps app for iOS. And that's what led Apple to replace it with their own in-house version of Maps, introduced as part of iOS 6.
It was not a smooth introduction.
It turned out that Apple's Maps app had accuracy issues, too often leading to a "wrong" destination. Complaints from users quickly became front page news. In a rare move, Apple was forced to issue a letter of apology, where it suggested alternative mapping apps while Apple worked to improve its own app. Complicating matters further, Scott Forstall (head of iOS software development) refused to sign the apology statement, which became a precipitating factor in his being fired from Apple.
Mapping again made news when an updated version of Google's Maps app returned to iOS in December. The new version was better than ever — including Google offering turn-by-turn directions for the first time on an iOS device. Personally, assuming both Apple's and Google's apps were equally accurate, I prefer Apple's Maps overall. For one thing, I find it easier to set up a route with it. However, Google's app offers the plus of transit directions. In the end, the battle between the two apps a win-win situation for iOS users.
The fall-out from the Maps app controversy extends beyond the world of mapping. A few years from now, I believe it will be seen as a tipping point event that broke a long-standing magic spell surrounding Apple.
Almost immediately after the controversy erupted, Apple's stock began a 200-point (and still counting) decline. The decline was partly attributed to the Maps business. However, other negative trends also contributed to analysts' concerns. Most critical was increased competition in the mobile market, especially from Samsung's Android devices. And for the first time in years, numerous articles appeared that questioned whether or not Apple had peaked.
Some analysts attributed the decline to a sell-off, prior to an expected capital gains increase in 2013. By this measure, you can expect Apple stock to go up again in January. And there is no doubt that Apple continues to rake in money on impressive sales of its devices. Still, at least on Wall Street and among many journalists, there has been a negative shift in the mindset towards Apple. The ultimate fate of Apple's stock, and Apple's overall market dominance, remains in flux.
Honorable mentions
AirPlay: Living in the future. AirPlay has been around for quite some time. Initially, called AirTunes, it was introduced in 2004; the shift to an expanded AirPlay version occurred in 2010. While this would seem to make it ineligible for a 2012 list, I include it here because of its recently expanded capabilities, primarily mirroring. You can now mirror almost anything on a Mac or an iOS device to an Apple TV. With third-party software such as Reflector, you can similarly mirror iOS displays to a Mac.
I continue to be blown away by what AirPlay easily allows you to do. Whenever my wife asks a technology question that ends in "Can we do this?," my answer is increasingly "Yes." And, more often than not, the reason for the affirmative reply is AirPlay. As an example, I received some photos as text messages the other day. My wife asked if she could see them on our TV. The answer was yes. On another occasion, she wanted to watch a TV show she had forgotten to record. I found the show on the network's website, but it could only be viewed from the web. Again, she preferred to see it on our television. No problem with AirPlay.
AirPlay is just one element of a larger trend towards more sophisticated interactions among all of our increasingly powerful technology devices. It's beginning to feel as if we are living in the future…when the things I saw in science-fiction movies years ago are now reality. And Apple technologies, such as AirPlay, are at the forefront of this trend.
iCloud: Moving on up. This was the year that Apple terminated MobileMe and went all in with iCloud. The new service is far from perfect. I still prefer Dropbox for many tasks. But with iTunes Match, PhotoStream, Documents in the Cloud (especially when used with iWork documents), and numerous other iCloud-dependent capabilities, we are finally seeing the practical benefits of Apple-integrated cloud storage. It's all part of a evolutionary shift, clearly endorsed by Apple, towards the cloud as the key component for the storage and manipulation of all our data. Expect this shift to accelerate in 2013.